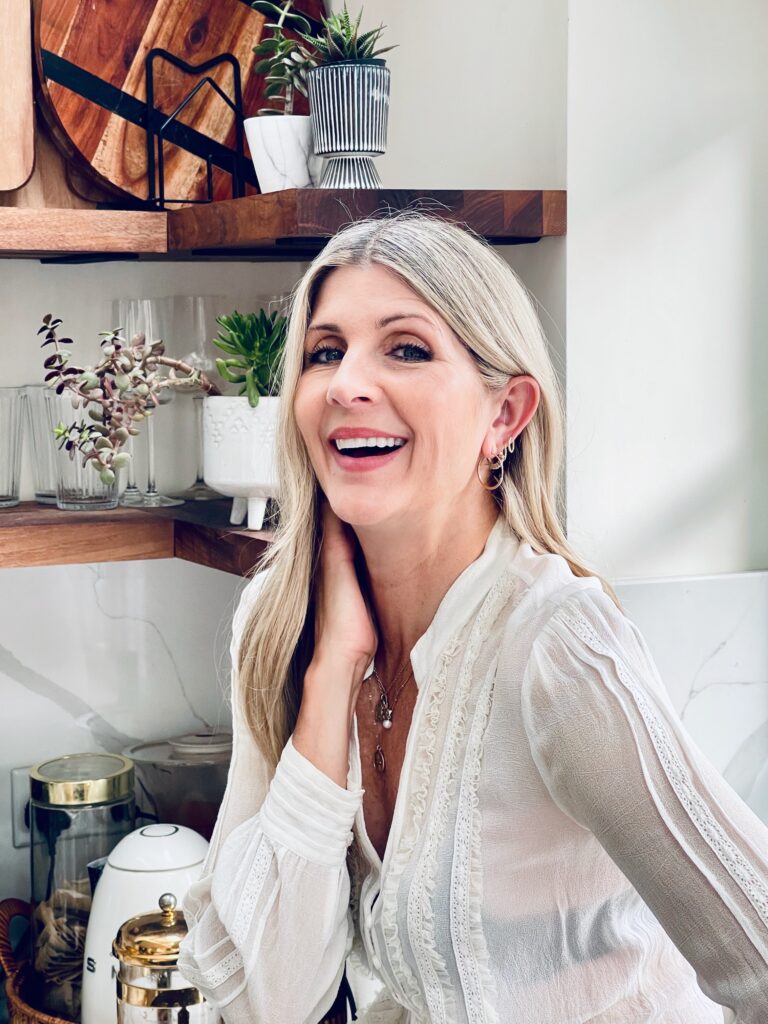 I'm a creative spirit, born in the heartland of Oklahoma to an English mother and an American father. Growing up in a world without the internet, finding inspiration for my creative dreams was no small feat, and I often stood apart from my peers. My love for all things design started as a child when I would find myself with an undeniable urge to add to my very brown and magnolia childhood home. I spent many days rearranging my room and would even choose to sleep on the floor rather than upset the perfectly arranged stuffed animals on my bed. Feeling slightly stuck in middle America, I longed to travel the world and design my own space. 
My journey took a remarkable turn when I landed my first job as a dancer on a cruise ship in Japan. That experience ignited my passion for travel, setting the stage for an adventurous life ahead. Following my time at sea, I embarked on an incredible eight-year journey as a member of a band, touring the world and soaking in diverse cultures and experiences.
Eventually, I found my way to England, where I found success as a makeup artist. Along the way, I got married, became a mother and experienced the challenges of divorce. However, the transformative moment of my daughter's home birth gave me the strength and determination to reshape my life.
Entrepreneurship had always been in my blood, but it wasn't until I crossed paths with my current partner that I truly embraced this calling. In 2015, I took a leap of faith and opened my first Airbnb property in Nashville, TN. The idea was simple: create a source of passive income to ensure a comfortable future, free from the restraints of selling my time for money. It was a pivotal moment, marking the beginning of a stable income.
Over time, my Airbnb venture expanded by adding a second property in 2017, followed by a third in 2020. A significant milestone arrived in 2019 when we decided to part ways with our first Airbnb property. Instead, we seized a unique opportunity and invested in a shop and a flat in the picturesque Old Town Margate.
Fuelled by a shared dream with my brother and my partner, Antony, we breathed life into Scissortail Coffee. This warm and inviting coffee shop swiftly evolved into a beloved community haven, particularly during the challenging times of the pandemic. However, the journey was not without its trials. The formidable hurdles that lockdowns presented and the pandemic's unpredictable twists took their toll. When my brother chose to return to America, I found myself at the helm of the coffee shop alone. A moment of clarity revealed that it was his passion, not mine. In the face of tough decisions, I made the bold choice to bid farewell to the coffee shop chapter and embark on a fresh endeavour—a homeware boutique, an authentic reflection of my lifelong passion.
Then, in 2022, I received a diagnosis that changed my perspective entirely: ADHD. Suddenly, all the struggles and the sense of being "different" finally made sense. I began seeking support and embracing my unique journey, acknowledging that certain tasks were more challenging for me than others. 
The reimagined Scissortail venture has been a more extended journey than anticipated. It unfolded amidst the backdrop of a challenging family court battle and a determined fight against infertility. However, I'm absolutely thrilled to share the triumphant outcome – I emerged victorious on both fronts. As a result, my oldest daughter now calls Margate her full-time home, and in June, I had the joy of welcoming a beautiful baby girl into the world. For the complete and heartfelt birth story, be sure to visit my blog.
So, there you have it – my life's journey from a small-town kid to a creative entrepreneur, with all the highs, lows, and unexpected twists along the way. It's a story of self-discovery, resilience, and adapting to life's surprises. I invite you to join me on this exciting ride.